I have been searching for a directory plugin for one of my sites and none of them have come close to my expectation.  There are the paid ones (so called premium) and there are some free ones out there as well.  There are ones that have been around for some times and there are few that are new or no longer supported.
I haven't had a chance to look through them all but I am putting together a list here as I find out more about them.  Hopefully this list will help someone in some way.
Directory Press ($79)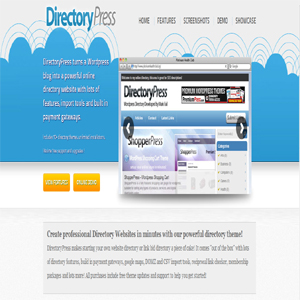 Directory Press, one of the top search results from Google if you search "WordPress Directory", is by far the most promising piece of directory plugin I have seen.  Now the demo doesn't allow any kind of access to the backend (admin area), so I haven't been able to find out more on the admin side of things.  The feature list, however seems to play out really good, check it out yourself.  One of my wish lists when it comes to directory plugin is to be able to allow user to add listing without registration but going through the demo, I don't believe the plugin has the ability to do that.  Since this is one of the important feature for me, I am looking further for other plugins.
WPDirectory Pro ($39)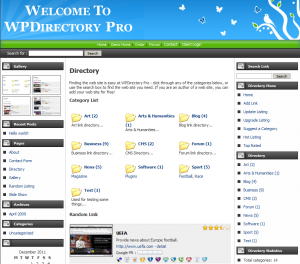 The other directory plugin I found is WPDirectory Pro.  This plugin seems to have all the features I want  such as thumbnail shot of the website, Google Ranking, adding site without registration, affordable, payment gateway to charge for listings, potentially use for other purposes such as classifieds or review sites, custom fields, too many to list.  Take a look at a list of features to see what they have to offer, I think you will be pleased. In terms of the technical side of things, the only downside I find is if you want to add a listing in a category, once you get to the add link page, you would have to scroll through, in my case, thousands of categories from a drop down menu to pick the one you want rather than browsing to a category and add your listing there.  But I don't see that as a problem as I can easily alter the codes to suit my need (if I am allowed to).  One other thing is that the site claims active community but when I tried to access the forum, it says it's currently unavailable.  The demo site currently doesn't allow backend or admin access so therefore I couldn't tell you what's back there, I guess we will find out once we purchase it.  The other important thing I want to mention is what I dislike about this site when I first landed on it is the demo's design and layout, it looks kind of out of date.  I thought the developer could use some work on the layout to make it clean as it's kind of busy.  But if you read the features list, the template and layout is fully customizable.
So far I like this plugin and I can see the potential of it on how it would help improve my existing sites.  I will keep digging in on this script and let you guys know what I find.
BUYER BEWARE: Upon writing this, I later found there has been problem with people getting responses or support from WPDirectory Pro after the purchase, it's to my understanding that the script hasn't been updated for more than a year. Search Google for "WPDirectory Pro Review", you will find what I am talking about.  So do yourself a favor and look elsewhere until we hear otherwise.
I am still looking and the progress isn't as quick as I would like it to be, until then, leave a message and let me know what else is out there that's worth check out. Cheers!