Buy 1 get 3 free.  I was pretty excited when I went to Rogers Video (North Road on the Burnaby side) today for Boxing Day deals when I saw a big sales sign of buying any previously viewed DVD or Bluray and get 3 free.  When I took a closer look at the poster, I saw "Closing Sales".  I was thinking to myself,…again?  The reason I had that thought was because not too long ago, perhaps few months back, Blockbuster closed down all its stores after 20+ years operated in Canada.  Prior to Blockbuster closure, there was a Rogers Video neared us also closed down, I was pretty saddened by this because that was the only video station around my corner (Austin Ave, Coquitlam).  Since its closure, I have been visiting the Rogers Video on Como Lake and to my surprise, that one will be closed too by January 2012.
I googled this as soon as I came home and found out that apperantly Rogers is in the mission on closing 63 stations across the country while 93 remains open and leaving maybe 7 to 8 in the lower mainland area and the one in Port Coquitlam on the Shaughnessy being the closest to me.
I have always been a big fan of Rogers Video, I don't know why, I just like going to Rogers and spend an hour or two browsing movies.  Now the closest video store is about half an hour from me, what am I going to do?  This is pretty depressing.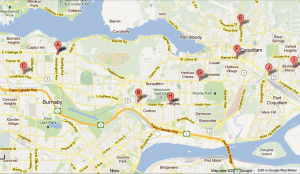 But if you look at where the technology is going and the way we choose to use it, it's no doubt why this is happening.  The reality is that nowadays people get lazy and people enjoy picking a movie and watching it at their convenience; they download it, they rip it or they stream it, all of these can be done at their own home without going out, and most importantly it's the most cost effective entertainment.  A good example would be when you rent a new release from these video stations, it costs about $4 per DVD per night.  But for the cost of 2 new releases ($8), you can actually subscibe to a video streaming service like Netflix for unlimited movies.  Now, you be the judge and decide which system you like better.
The only questions remain at this stage are, why did I spend $2000 on a 3D HDTV?    How's the quality when it comes to streaming?  What am I going to do with my blu-ray player?  The questions go on…For those of you who care, these stores will be shutted down completely by Jan 10, 2012.  Good luck on picking your favorite movies.