Updated: Jun 5, 2022
You stumbled here most likely because of having internet or wifi connection issues with Telus. I am having the exact same issue since mid Dec 2020, I do not have solution yet but I thought I wanted to keep track of a series of events that happened over time, in hopes to eventually find a fix for the real reasons why I continuously getting bad, intermittent connection or drops of signal totally.
Network Equipment:
T3200M modem (Plan is Internet 75, grr…most they can do in my area)
3 Telus Optic TV boxes

1 PVR (ethernet wired), 1 4k box (coax wired), 1 4k box (wireless)

2 Telus Boosters
1 Router strictly for wired home automation devices
1 wifi extender strictly for 2.4 Ghz Smart Life smart devices (Updated to ASUS RT-AC1200 V2 in Nov 2021)
Telus Internet and WI-FI connection issues:
Dec 24, 2020 – Chat with Telus rep regarding connection issues with iphone (or apple products like ipad) connection getting dropped frequently from the main SSID. Basic troubleshooting provided but ending the chat with scheduling a tech visit.
Dec 26, 2020 – Telus Tech showed up just before 1 pm, talked to him about the issues, he then went and ran diagnosis test on the Optic TV even though I told him twice there was nothing wrong with the TV signal. What he did next was he connected to my home network, then said something about connecting to VPN which I didn't understand why he had to do that. While he was still at my house with all these testing, my TVs started to lost connection, the TV would be very pixelized, then loss signal completely. I asked the tech about what happened, he kept saying you just have to 'Reset' the box by unplugging and plugging back in. We must've done that 3 to 4 times while he was still around. The guy then just left after that claiming it would get better and 'No worries', and left. TV wasn't the only problem at the time he was around, my internet download speed went to on average less than 10 mbps which in a way is unacceptable based on what i signed up for, so here I am again contacted the Tech via Telus chat. I must've gone through 3 support techs as my internet kept dropping, so i ended up connected to them via my phone hotspot using my data. Throughout the 2 hours chat we had established (yes 2 hours), I believe all he did was change the wi-fi channel, reason I said that is because through those time, I keep doing speed testing (counted 53 times using my laptop) using either my phone or laptop. Finally around 4:15 pm ish, we got to a point that the speed was acceptable, then we called it a day.
Here is the thing throughout this experience, first this tech that showed up in my door, I feel that he shouldn't be in this field because he was a total joke. He didn't fix my problem rather creating more to deal with, I lost a whole boxing day because of his incompetency. Listen to this, he said "The reason you have slow internet is because your modem is behind a media enclosure", WTF!
Jan 13, 2021 – Since the tech visit, we had been having intermittent connection issues with internet, pixilating and freezing issue with Optic TV, this day was the worst as it happened throughout the whole day.
Jan 17, 2021 – TV froze up regardless of time of reset, finally reached out to Telus Support via Chat. It then got better while talking to online Tech.
Jan 28, 2021 – Slow internet and dropping issue randomly throughout the last couple weeks. Internet and WIFI got disconnected completely, had to reboot modem.
Jan 29, 2021 – TV froze up Monday (Jan 25), Tuesday (Jan 26), Wednesday (Jan 27) of that week also, finally reached out to Telus Support via Chat this day (Jan 29) because of the same issue. According to the Tech support, i have bonded line to provide internet speed, apparently one of the lines lost connection for the whole week. The tech also said over the 7 days, it disconnected 40 times. We ended our conversation by schedule a 'Senior' Tech according to them.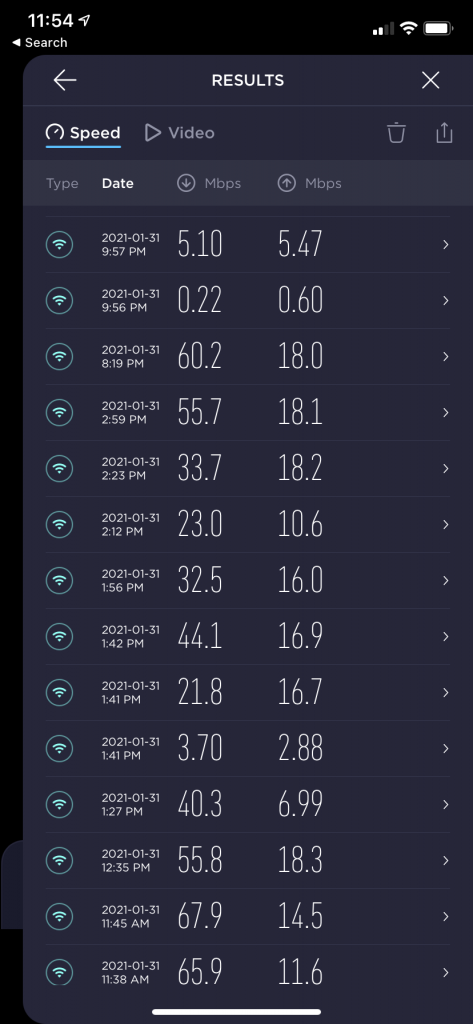 Feb 5, 2021 – Internet and WIFI kept dropping and disconnected. Finally contacted Online Tech via chat. I restarted the modem that fixed the problem that day.
Feb 11, 2021 – Tech showed up around 11 am. There was no issue at the time he visited but I explained the continuous issues we've been having. He then went and explained a few things here and there. He claimed to have no issue with their connections, no issue with the cable outside of the house, the issue must be something to do with 'My Equipment'. He then went on to move my cable connection around, the 2 exact things he did was moved ethernet cable that's plugged into the PVC directly into the T3200M modem and moved ethernet cable that's plugged into the booster into the T3200M modem. He then ran the diagnosis tests on the TV, then said no issue. Since things were good at the time of his visit, I explained this issue happens randomly, he then said well, it has to be your equipment so you need to disconnect them one by one and test them individually. So the conclusion at the end of this, really he did nothing because it's my 'Equipment' issue that I am supposed to go find out myself.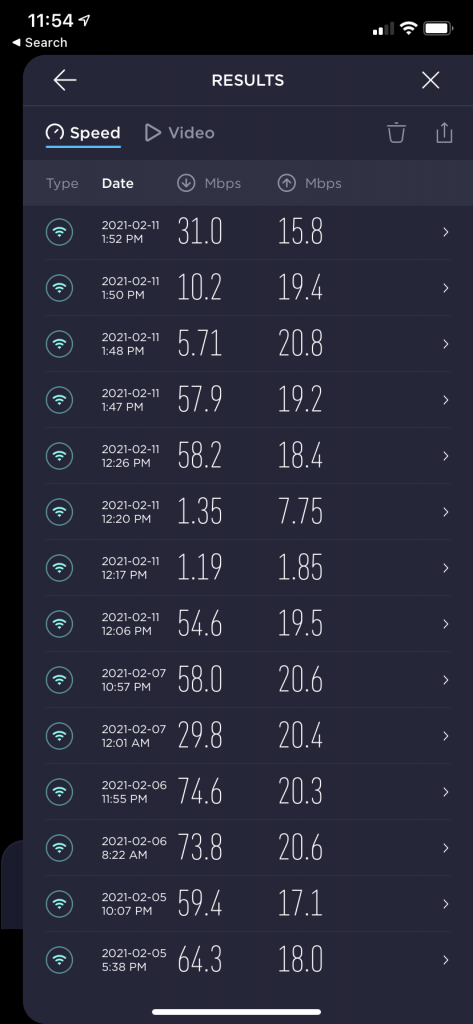 Feb 18, 2021 – No dial tone on my home phone around 10 pm. This resulted my alarm to chime (yellow triable on the DSC pad) since it detected no communication error.
Feb 19, 2021 – Still no dial tone around 6:00 pm so I called telus finding out what's going on. We ended the call scheduling a Tech visit.
Feb 21, 2021 – Telus Tech showed up around 10 am, was working outside on top of the cable poll for a good 1/2 hr. He then came to my house and explained that he had to replace some cables (not sure exactly what they meant), he also said that's the main reason why I was getting a bad connection. From this same visit, he did the TV diagnosis test like the rest to make sure connections were good. One of the TV boxes however wasn't responsive. He then suggested the TV box to be connected to the modem directly as opposed to wireless. He then went ahead and supplied me with the coax connector to plug the TV box into the modem directly. He explained if you have bad device in the house, that could also potentially affect the overall connection. I truly believe on that statement but i don't believe i have bad devices, other than the TV box that he identified as not responsive. At the end of the visit, our phone line was back up, internet and TV was running smoothly.
This tech by the way is top notch in my opinion, he cares a lot about what's going on, also seems very knowledgeable about home networking in general.
Feb 23, 2021 – Around 4:00 pm, our main and guest SSID pretty much dropped connection completely. When we tried to connect to either, it's asking for password. We entered the password, it would then say wrong password provided. I went to reboot the modem several times, still not working. The weird part however is we are able to connect to the booster (we set up separate SSID), just not the main and the guest ones, even using ethernet cable. Since we have 75% of our devices connected to the main (ie. automated devices, TV for streaming, etc.) not having the main SSID would be a huge problem, so I went to 'RESET" the modem. Resetting in theory should start from scratch, this however was a wrong move, it still had issue because now I couldn't log connect to the default SSID regardless of how many times I tried, I also tried direct connect to the modem using ethernet. Here we go again, I called Telus support. Telus walked me through to trouble shoot the issue including re-resetting the modem, I still couldn't log in using the default information. At this time I was suspecting the modem could be defective. We ended our call with scheduling a tech out. This night was the night we all lived through without internet.
Feb 24, 2021 – First thing I did when I woke up around 5:15 am ish was to reset the modem, when I reset my modem, I unplugged all the ethernet cables and the coax cable. Once it's booted up, I then connected the 4 ethernet to it one by one (I did this by the way the night before when troubleshooting), but I left the coax cable out. This move, magically allowed me to connect to the modem, yay, internet is back! My tenant, who is using the guest network said there was no issue throughout the whole day, so I thought I fixed the problem. The same night around 11 pm, unfortunately the complete internet dropped again, I had to reboot the modem by unplugging for 15 seconds and plugging back in. This somehow fixed the problem for the night.
Feb 27, 2021 – This has been a couple night the internet hasn't dropped (knock on wood), the only issue I am having is my iphone would show as connected to my main SSID, however there will be no internet. Fix for that is to turn WIFI off and on on the phone, then it will be good. One note is these drops of signal doesn't happen to booster network nor does it happen to other devices.
Mar 25, 2021 – Just wanted to record that there hasn't been a connection drop since few weeks back (knock on wood), I haven't started my modem since those time, will continue to monitor and report here if any issues.
Jun 6, 2022 – Just wanted to provide a quick update – internet connection has been stable for some time, occasionally the internet would drop on the main and guest SSID (not the Telus booster/range extender), all we have to do is to reset the router and things would be back to normal.
I am truly wanting to know what caused this Telus internet connection issues, I will update this blog with any wifi issue I come across. I hope to find the solution and fix and hopefully will benefit others.