So when you open the Mail app from Windows 10, you get "Not synced yet".  When you clicked the refresh button on the top, it says "We didn't find anything to show here" similar to the screenshot here.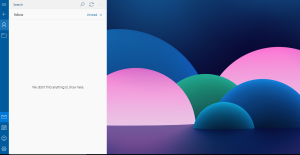 I want to point out that the solution here is strictly for adding an email from outlook.com, in my case, I added a Hotmail email account. There could be plenty other reasons why your Windows 10 Mail isn't syncing. For me the fix was pretty straight forward. The problem I had resided around the privacy issue in Windows 10.
If you recall the first time you set up Windows 10, just like everyone who cares about their privacy and security, you most likely turned off all "Let apps use my…" Privacy functions in Settings, that may include your Camera, Microphone, Other Devices, etc. One of the items you want to ensure is turned ON in order for this particular Mail syncing issue to work is "Calendar".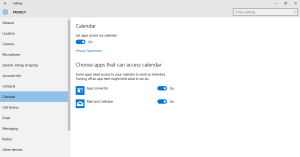 Apparently turning off "Let apps use my calendar" prevent the Windows 10 mail to sync. In order for the Mail to start syncing with the server, you need to turn it on. That is basically the fix to my "not synced yet" problem in Windows 10 mail.
To turn on this privacy function on, you simply go to the Windows 10 Settings, click Privacy, select Calendar from the side menu, and turn ON "Let apps use my calendar".
Hope this information helps you.